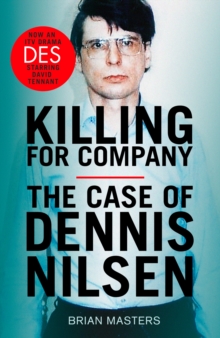 Killing for company ([New] edition)
1787466256 / 9781787466258
20 cm xxii, 337 pages, 8 unnumbered pages of plates : illustrations (black and white)
TV tie-in Previous edition: 1995.
The definitive story of the Dennis Nilsen case featured in Netflix's Memories of a Murder: The Nilsen Tapes, and the book behind ITV's Des, starring David Tennant***WINNER OF THE GOLD DAGGER AWARD FOR CRIME NON-FICTION and THE NUMBER ONE SUNDAY TIMES BESTSELLER***__________________Dennis Nilsen, who died in May 2018, admitted to killing at least 15 people before his arrest in 1983.
This ground-breaking criminal study of his killings was written with Nilsen's full cooperation, resulting in a fascinating - and horrifying - portrait of the man who worshipped death. In February 1983, residents of Muswell Hill had been plagued by blocked drains.
When a plumber was called to investigate, he discovered a large blockage of biological material.
To his horror, it appeared to be formed of human flesh and bones. The next day, local resident Dennis Nilsen was arrested. 'Are we talking about one body or two?' a detective asked.
Nilsen replied 'Fifteen or sixteen, since 1978. I'll tell you everything.' Within days he had confessed to fifteen gruesome murders over a period of four years.
His victims, mostly young gay men at a time when society cared little for them, had been overlooked.
Killing for Company is a unique study of a murderer's mind, essential reading for true crime aficionados. __________________'You really have to read this extraordinary book to get a full flavour of the weirdness of Nilsen and his crimes' SUNDAY TIMES'A seminal look into the criminal mind' DAILY MAIL'Brian Masters has given us a full, well-ordered, dispassionate account of Nilsen's life and crimes' THE TIMES'Without any doubt one of the most remarkable, complete and most humanely informative accounts of a murderer's mind ever achieved... the book is far superior to any previous English book of its kind and deserves to serve as a model for all future attempts in this genre' NEW SOCIETY'The book is a perceptive and at times coldly brutal assessment of Nilsen's psychology' MIRROR'A comprehensive and compelling account' FINANCIAL TIMES'Probably the best thing of its kind since In Cold Blood . . . a classic study in criminal mentality' YORKSHIRE POST'Killing For Company must stand as one of the most remarkable and accurate accounts ever written of the singular relationship between a mass murderer and a society . . . a bloody masterpiece.' BERYL BAINBRIDGE'A truly awesome tale, brilliantly told' LITERARY REVIEW'A meticulous study of the dark intricacies of the human mind' THE BOOKBAG'Brian Masters can rest assured that the job he undertook with such obvious doubts was one worth doing' SPECTATOR'Masters has written an extraordinary book, and his achievement has been the ability to recount horrific details without descending to the lurid sensationalism of the instant books and Fleet Street reports' POLICE'A compelling and remarkable book ... through Masters' fine writing the reader suspends his nausea for the crimes, and concentrates with Nilsen on his motives and himself' THE LISTENER
BIC: