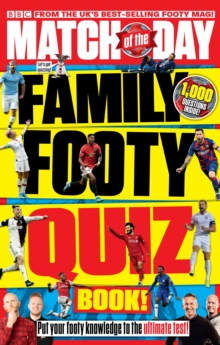 Match of the Day magazine family footy quiz book!
178594634X / 9781785946349
20 cm 162 pages : illustrations (black and white)
General (US: Trade) Learn More
Children / Juvenile
It's time to find out who is your family's top footy genius.
Tackle your parents, your brother, your sister - even your dog - to see who is No.1 in your house when it comes to football knowledge. 1 What is Jurgen Klopp's middle name?A Norbert B Herbert C Schubert2 Which of these legends was never named PFA Player of the Year?A Frank Lampard B Roy Keane C John Terry3 Which international footballer was born in Middlefart?A Toni Kroos B Christian Eriksen C Erling HaalandThe Match of the Day Family Footy Quiz book is the brand-new challenge for footy fans everywhere.
Packed with hundreds of brain-busting questions from the Match of the Day team, featuring puzzles, teasers, crosswords, word searches, secrets and much more - this is the ultimate test for any football fan. Answers1 A Norbert, 2 A Frank Lampard, 3 B Christian Eriksen
BIC:
5AH Interest age: from c 7 years, YNV Hobbies, quizzes & games (Children's / Teenage), YNWA Football / soccer (Children's / Teenage)