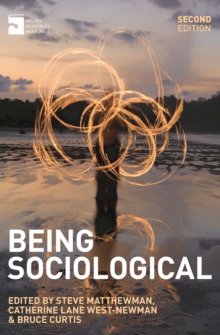 Being sociological (2nd ed)
0230303153 / 9780230303157
Sociology throws new light on the world we think we know.
It can challenge long-held assumptions and it offers a spectrum of possibilities to extend our understandings of everyday life, politics, culture and relationships.
It opens our eyes to alternatives for tackling social problems and connects every one of us to each other.
Being Sociological is an entertaining, inspiring, intelligent introduction to this vast and illuminating subject.
Each chapter follows a clear path through a core sociological process - from working and consuming to believing and communicating.
With intriguing examples, clear definitions of essential jargon and stimulating theoretical explanation, the book focuses on the most important issues and ideas that inform sociology.
The new edition:* Expands the international range of examples and voices represented* Draws on expertise of leading academic contributors from across seven countries* Includes even more coverage of hot topics in new chapters on globalization and the environment* Uses a clear structure throughout each chapter to ease the reading experience * Aids understanding and learning with new features, including discussion points, annotated suggestions for further reading, an expanded glossary, and enhanced web support at http://www.palgrave.com/sociology/matthewman2e. This is the resource all students new to the subject need in order to start their sociological journey with understanding, knowledge, imagination and confidence.
BIC: