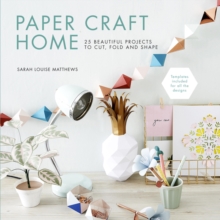 Paper craft home : 25 beautiful projects to cut, fold and shape
1782216200 / 9781782216209
Usually dispatched within 4 weeks
23 cm 144 pages : illustrations (colour)
Papercrafting is a perennial favourite among crafters - it's creative, accessible, and inexpensive, making it perfect for gifting.
A blank sheet of paper offers limitless possibilities and unexpected ways in which it can be cut, scored, creased, shaped, and glued to transform an everyday material into something extraordinary and precious.
In this book by renowned paper engineer and papercut product designer Sarah Louise Matthews, you will discover 25 gorgeous papercraft projects for home decor to make for yourself or as gifts for friends and family.
Start by learning the essential techniques, including papercutting, scoring, folding, shaping, and glueing, then dive straight into the myriad beautiful designs - from pop-up cards and cake toppers to lampshades, fairylights and even a cuckoo clock!
For the more complex designs, templates have also been printed in the book which you can scan or trace for a quick and easy start to your papercutting journey.
Papercutting is one of the most popular crafts around, and no wonder - with just a few tools you can draw beautiful designs with your scalpel and experience the relaxing, creative and rewarding experience of paperworking.
BIC: