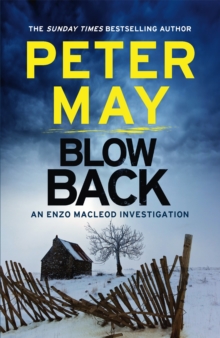 Blowback
1782062122 / 9781782062127
Reprint. Originally published: Scottsdale: Poisoned Pen Press, 2011.
**#1 BESTSELLING AUTHOR: OVER 3 MILLION COPIES SOLD** **THE ENZO FILES: PETER MAY'S ADDICTIVE COLD-CASE SERIES** **'Fresh and delightfully readable' KIRKUS** **'Mouth-watering' EXAMINER.COM**The penultimate chapter in the Enzo Files, sees Enzo enter the volatile and - now, it appears - violent world of haute cuisine. PUY-DE-DOME, FRANCE. A Silenced Man. Footprints in the snow lead to the murder scene of Marc Fraysse, France's most celebrated chef - brutally shot before he could make the revelation of his career.
A Determined Man. Seven years on and the mystery still raw, Enzo Macleod, forensic investigator, forays into the heated world of haute cuisine to uncover bitter feuds and a burning secret.
A Hunted Man. The Fraysse family history is as twisted as Enzo's own. And in his pursuit of truth, the depths of deceit threaten to consume Enzo - and that which he cherishes most. LOVED BLOWBACK? Read the series finale, CAST IRONLOVE PETER MAY? Order his new thriller, A SILENT DEATH
BIC: