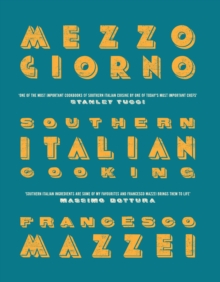 Mezzogiorno : Southern Italian cooking
1848094639 / 9781848094635
Usually dispatched within 2 weeks
27 cm 287 pages : illustrations (colour)
Francesco Mazzei hails from Calabria - the toe on Italy's boot and the region noted for producing n'duja (a spicy, spreadable pork sausage).
Like n'duja, Mazzei has come to prominence in the last few years impressing fellow chefs, bloggers and critics alike. From making ice cream at his uncle's gelateria at the age of nine to working at London's prestigious Dorchester Hotel and on the pastry sections at Hakkasan and Yautcha, Mazzei has led a varied career that has straddled Rome, Edinburgh, London, Bangkok (where he opened an Italian restaurant at the Royal Sporting Club) and Calabria. He opened L'Anima in 2008, which became one of the leading lights of London's collection of Italian restaurants - 'Many lay claim to being number one Italian restaurant, but Francesco Mazzei's L'Amina has the edge' (The Observer, 2013).
Signature dishes at L'Anima - such as Charcoal scallops with n'duja and salsa verde and Spit roast leg of lamb with cannellini beans and black cabbage - offer prime examples of a style that marries rustic Calabrian flavours with Modern European precision.
His next project opens in Autumn 2015 with the relaunch of Sartoria in Mayfair.
This, his first book, is a straightforward '80 terrific southern Italian recipes' with an introduction to the food of Southern Italy.
BIC: