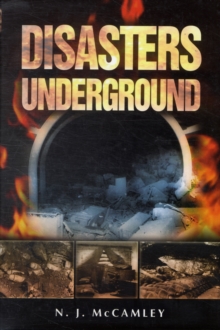 1844150224 / 9781844150229
Usually dispatched within 2 weeks
The rapid expansion of the RAF during the mid/late 1930s necessitated a massive storage requirement for high explosive bombs and other ordinance.
Drawing on the experience of the Great War ammunition factories, the authorities set about identifying underground sites around Britain safe from the threat of air attack.
Unfortunately in the haste of the moment safety arrangements were not a high priority and, as a result, there were a number of appalling accidents; the most serious occurred in November 1944 when 3,800 tons of HE bombs detonated at the same time resulting in the deaths of 68 people in a Staffordshire quarry.
BIC:
1DBKE England, 3JJG c 1918 to c 1939 (Inter-war period), HBJD1 British & Irish history, HBLW 20th century history: c 1900 to c 2000, JFFC Social impact of disasters, JWG Air forces & warfare, JWM Weapons & equipment
* Variable discounts between 0% and 15% are applied to items where BBfS cannot determine exact discounts from suppliers.