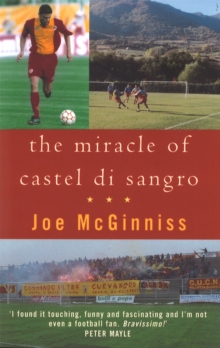 The miracle of Castel di Sangro
075152753X / 9780751527537
20 cm 407p., [16]p. of plates : ill.
Reprint. Originally published: London: Little, Brown, 1999.
Through 1996 and 1997 Joe McGinniss followed the Italian football season from Castel di Sangro, a small town in the Abruzzi region of Italy.
This is the story of a team and a town with no aspirations, just a passion for soccer, and how that passion enabled the di Sangro club to reach almost the top of the professional game in Italy.
It is the story of how a a dot on the map was transformed into a place of sporting magic, miracles and wonder.
BIC:
1DST Italy, 3JJPR c 1990 to c 2000, WSJA Football (Soccer, Association football)
Prizes:
S 1999 William Hill Sports Book of the Year