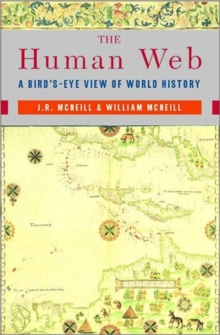 The human web : a bird's-eye view of world history
0393925684 / 9780393925685
Usually dispatched within 2 weeks
World-historical questions such as these, the subjects of major works by Jared Diamond, David Landes, and others, are now of great moment as global frictions increase.
In a spirited and original contribution to this quickening discussion, two renowned historians, father and son, explore the webs that have drawn humans together in patterns of interaction and exchange, cooperation and competition, since earliest times.
Whether small or large, loose or dense, these webs have provided the medium for the movement of ideas, goods, power, and money within and across cultures, societies, and nations.
From the thin, localized webs that characterized agricultural communities twelve thousand years ago, through the denser, more interactive metropolitan webs that surrounded ancient Sumer, Athens, and Timbuktu, to the electrified global web that today envelops virtually the entire world in a maelstrom of cooperation and competition, J.
R. McNeill and William H. McNeill show human webs to be a key component of world history and a revealing framework of analysis.
Avoiding any determinism, environmental or cultural, the McNeills give us a synthesizing picture of the big patterns of world history in a rich, open-ended, concise account.
BIC:
HBG General & world history, UDB Internet guides & online services
* Variable discounts between 0% and 15% are applied to items where BBfS cannot determine exact discounts from suppliers.