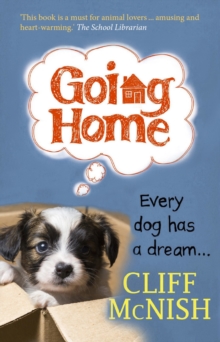 Going home
0995582114 / 9780995582118
20 cm 227 pages : illustrations (black and white)
Reprint. Originally published: London: Orion Children's Books, 2014.
At the Happy Paws Rescue Centre, every pet dreams of one thing: going home. But Ralph, Mitch, Bessie and Fred are the no-hopers: dogs so difficult or troublesome they aren't expected to ever go home. Ralph's face is scarred. Bessie can't stand to be touched. Mitch can't stop chasing cats and Fred ... has just given up. Who'd want to adopt any of them instead of a cute little puppy?But when Happy Paws reviews its policy of never putting an unwanted pet down, time starts running out for the dogs.
Can they prove that they're worth a second chance? Will there be hope for the no-hopers after all?With the appearance of Cliff McNish's debut fantasy novel The Doomspell, The Bookseller immediately hailed him as 'a great new voice in writing for children.' His ghost story Breathe was voted in May 2013 by The Schools Network of British Librarians as one of the top adult and children's novels of all time.
BIC:
5AG Interest age: from c 6 years, YFN Family & home stories (Children's / Teenage)