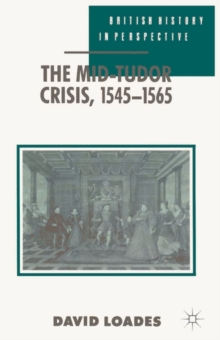 The Mid-Tudor Crisis, 1545-1565
0333523385 / 9780333523384
140 x 216 mm, 293 grams 224 pages, V, 224 p.
Historians, like politicians, thrive in crises. Was there really a crisis in England between 1545 and 1565, or is this just a way of describing a period in history when a lot of interesting things where happening?In reality the twenty years from 1545 to 1565 contained no more elements of crisis than other comparable periods.
There were crises: a brief, but serious collapse of the overseas cloth trade in 1551-52, and a confused royal succession in 1553.
Inflation began to be a problem in about 1545, and remained so for the remainder of the century.
The Church had already undergone a major revolution in the 1530s, and the mid-century period could be described as the 'search for a stable settlement', a search had succeeded by 1565. Indeed, the machinery of central and local government worked throughout this period, with only minor fluctuations in its efficiency and effectiveness.
Although, therefore, there were crises within in the mid-Tudor period, there was no fundamental threat to the state or societyMary and Northumberland's achievements in particular have been much underrated as governors in order, originally, to magnify those of Elizabeth propaganda.
DAVID LOADES rights the record and argues for the surprising stability of government during this period
BIC:
1DBKE England, 3JB c 1500 to c 1600, HBJD1 British & Irish history, HBLC Early history: c 500 to c 1450/1500, HBLH Early modern history: c 1450/1500 to c 1700, HBTB Social & cultural history, JP Politics & government