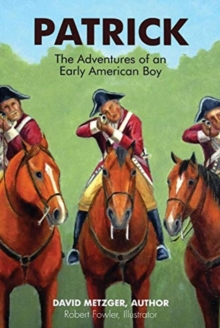 Patrick: The Adventures of an Early American Boyy
1098306287 / 9781098306281
6 x 228 mm, 0 grams 50 pages
Patrick is a quick-witted fictional ten-year-old who lives in pre-Revolutionary War America.
He practices throwing stones from the stream that runs through their farm at a target he has carved into a tree.
His throwing skill comes in handy one day when a large black bear threatens the family's horse and her colt.
Patrick's best friend, Joshua, an aristocrat's son, is a year older, but enjoys Patrick's company.
In addition to learning how to throw a stone at the tree target, Joshua learns from Patrick how to respond to wildlife they meet along the trail.
Patrick's father is an outspoken patriot and he and Patrick have long talks about freedom and independence from the British.
From these talks, Patrick, and the young reader, learn about King George III, British rule, the redcoats, and how they enforce the King's demands and taxes on the colonists.
One day Patrick returns from the stream to find their yard full of British soldiers.
Captain Tarleton, the British Captain, is about to punish Patrick's father for advocating freedom and independence from the King.
To the horror of his family, Patrick confronts Tarleton.
Captain Tarleton does not respond kindly to this interruption and the chase is on!
What the British have in numbers Patrick makes up for in intimate knowledge of the woods and area.
This adventure will test Patrick's values, resourcefulness, perseverance, and ability to survive.
Patrick exhibits the values of honesty, bravery, respect for his elders, looking adults in the eye, resourcefulness, and many others.
The book is designed to educate as well as entertain, and compares well to Virginia's Department of Standards and Education and Essentials of Learning.
BIC: