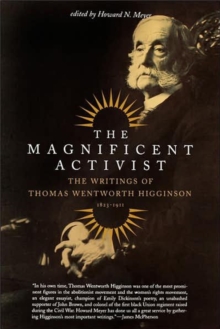 The Magnificent Activist
0306809540 / 9780306809545
Stock expected by 16/04/2020
General (US: Trade) Learn More
Professional & Vocational
Thomas Wentworth Higginson is little known today, but during his own lifetime his remarkable activism put him at the very heart of the pivotal social movements reshaping America for the nineteenth century and beyond.
Born in Cambridge, he was a fervent abolitionist, running guns to anti-slavery settlers and financing John Brown's raid.
During the Civil War, he commanded the first black unit to fight for the Union, and their achievements (publicized in his classic Army Life in a Black Regiment ) opened the way for further black enlistment.
He also championed women's rights for sixty years, lecturing and agitating for suffrage.
His lifelong correspondence with Emily Dickinson led to his editing her verse for publication, which some have called his greatest literary legacy.
But in fact that legacy is here, in the essays he wrote about the many causes to which he dedicated his life.
With this volume Meyer has guaranteed the rediscovery of a major American figure whose ideas made him a radical in his society but a visionary in ours.
BIC:
2ABM American English, DNF Literary essays, DSBF Literary studies: c 1800 to c 1900 , HBTS Slavery & abolition of slavery, JPW Political activism