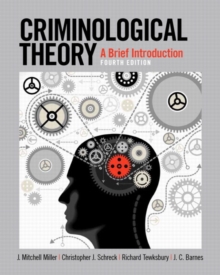 Criminological Theory : A Brief Introduction (4 ed)
0133512371 / 9780133512373
204 x 254 mm, 390 grams 240 pages
This concise, up-to-date text provides student-friendly examples of all theoretical approaches that emphasize the complex relationships between 21st century social structures, cultures, and crime. Criminological Theory: A Brief Introduction, 4e provides students and instructors with a concise, up-to-date, and thorough discussion and explication of major criminological schools of thought.
The text focuses on providing students with understandings of not only what the central tenets are of criminological theories but also focuses on providing real-life examples and implications for criminal justice policy and practice.
The various theories examined across the chapters are illustrated through examples drawing upon contemporary cultural developments of particular interest to college age students that increase interest and engagement. Teaching and Learning Experience This book offers an accessible discussion of the major theories of crime, delinquency, social deviance and social control with an objective and neutral approach.
It provides: Expanded coverage of theory development, assessment, and integration: Provides thorough yet concise coverage Theories grouped by type and subtype: Gives students an appreciation of the historical development of theoretical criminology and the significance of classical statements to contemporary perspectives Strong pedagogical support: Reinforces chapter information to ensure mastery
BIC: