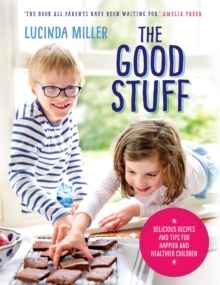 The good stuff
1780723555 / 9781780723556
26 cm 223 pages : illustrations (colour)
Illustrations on lining papers.
With child obesity on the rise, and more and more young people struggling with anxiety, mood swings, learning and behavioural issues, this is a timely, important book. Bombarded by advice about healthy eating, many parents are left confused: Lucinda Miller offers the lowdown on everything, from which fats are good and which are bad, the importance of protein, carbs without the sugar rush, and much more. The adolescent brain is still maturing well into the mid-twenties.
So it is never too late to start educating your kids on positive nutrition and feeding your family more of the good stuff.
What they eat now lays down the foundations of their future health.
Lucinda Miller has the nutritional authority of Amelia Freer and the mass market appeal of Annabel Karmel.
She is fantastically articulate on her subject and passionate about transforming the diet of children today.
Beautifully produced, with stunning photographs and clear, easy to follow nutritional meal plans and principles. Massive publicity campaign, launched with The Times Saturday magazine serialisation, including back to school recipe pull-out.
BIC: