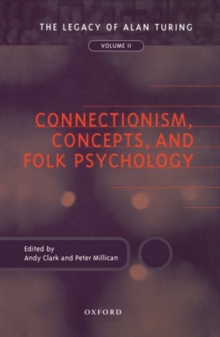 Connectionism, concepts, and folk psychology
0198235941 / 9780198235941
Usually dispatched within 4 weeks
This is the second of two volumes of essays in commemoration of Alan Turing; it celebrates his intellectual legacy within the philosophy of mind and cognitive science.
A distinguished international cast of contributors focus on the relationship between a scientific, computational image of the mind and a common-sense picture of the mind as an inner arena populated by concepts, beliefs, intentions, and qualia.
Topics covered include: the causal potency of folk- psychological states, the connectionist reconception of learning and concept formation, the understanding of the notion of computation itself, and the relation between philosophical and psychological theories of concepts.
BIC:
HPK Philosophy: epistemology & theory of knowledge, HPL Philosophy: logic, HPM Philosophy of mind, JMR Cognition & cognitive psychology, UYQ Artificial intelligence