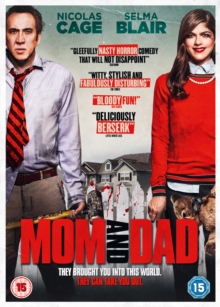 Bulgarian, Czech, Danish, Finnish, French, Hungarian, Norwegian, Polish, Swedish
(15) Suitable for 15 years and over.
Brian Taylor writes and directs this US horror comedy starring Nicolas Cage and Selma Blair.
A mysterious pandemic breaks out in a quiet suburban community which turns parents into vicious killers who attack and kill their children.
When their parents Brent (Cage) and Kendall (Blair) return home looking for blood, teenagers Carly (Anne Winters) and Josh (Zackary Arthur) are forced to go to extreme lengths in order to survive.