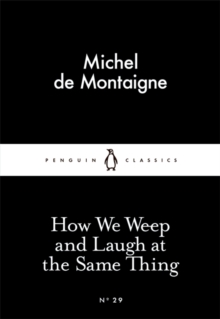 How we weep and laugh at the same thing
0141397225 / 9780141397221
Translated from the French.
'No one characteristic clasps us purely and universally in its embrace.'A selection of charming essays from a master of the genre exploring the contradictions inherent to human thought, words and actions. Introducing Little Black Classics: 80 books for Penguin's 80th birthday.
Little Black Classics celebrate the huge range and diversity of Penguin Classics, with books from around the world and across many centuries.
They take us from a balloon ride over Victorian London to a garden of blossom in Japan, from Tierra del Fuego to 16th-century California and the Russian steppe.
Here are stories lyrical and savage; poems epic and intimate; essays satirical and inspirational; and ideas that have shaped the lives of millions. Michel de Montaigne (1533-1592). Montaigne's works available in Penguin Classics are The Complete Essays, An Apology for Raymond Sebond, On Friendship, On Solitude and The Essays: A Selection
BIC: