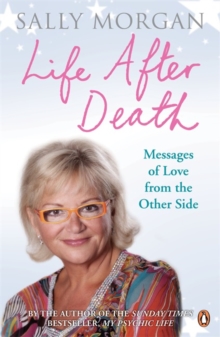 Life after death : messages of love from the other side
0241952824 / 9780241952825
Usually dispatched within 4 weeks
DISCOVER HEART-WRENCHING STORIES FROM THE SPIRIT WORLD, IN LIFE AFTER DEATH BY SALLY MORGAN AS SHE TAKES ON HER 10TH ANNIVERSARY TOURHow does it feel to speak to dead people?
What happens when spirits need to contact us? Is there really life after death?Sally Morgan is an ordinary woman with an extraordinary gift - she can communicate with the dead.
As the UK's best-loved medium, she delivers messages from departed loved ones to thousands of bereaved people with her sell-out psychic roadshow.
From child deaths to suicides, murders and fatal accidents, Sally offers words of hope and salvation for those caught in grief and anguish. In this revealing book, Sally takes us on a journey through her extraordinary experiences.
She details the dramatic readings that have remained etched on her memory and gives us her unique insight into the biggest subject of them all - the afterlife. Uplifting and astounding, this book is full of out-of-this-world encounters and incredible stories.
Often heart-wrenching and poignant, Sally Morgan asks some difficult questions, yet Life After Death remains a story of hope.
BIC: