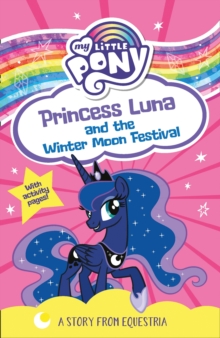 Princess Luna and the Winter Moon Festival
0755501780 / 9780755501786
20 cm 118 pages : illustrations (black and white)
Reprint. "With activity pages!"--Front cover. Originally published: New York: Little, Brown and Company, 2015.
Join Princess Luna in a magical My Little Pony adventure! All the ponies in Equestria love the Summer Sun Celebration - all except Princess Luna.
So when the Cutie Mark Crusaders suggest that they have a special Winter Moon Festival just for her, Luna can't think of anything worse!
Princess Luna is determined to stop the party. Can her pony friends help her enjoy the festival fun? With illustrations throughout and bonus puzzle pages at the end, this My Little Pony chapter book is perfect for fans that are developing readers. Read the other books in the series:Twilight Sparkle and the Spell - 9781405296380Rainbow Dash and the Double Dare - 9781405294997Applejack and the Secret Diary - 9781405296380Pinkie Pie and the Party - 9781405296366Rarity and the Curious Case - 9781405296434Fluttershy and the Friends Fair - 9781405296441Princess Celestia and the Royal Rescue - 9780755501779
BIC:
YFB General fiction (Children's / Teenage), YFP Animal stories (Children's / Teenage)