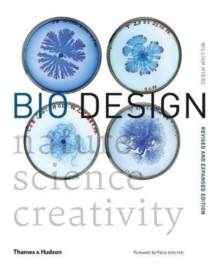 Bio design : nature, science, creativity (Revised and expanded edition)
0500294399 / 9780500294390
26 cm 304 pages : illustrations (colour)
Previous edition: New York: The Museum of Modern Art, 2012.
Bioluminescent algae, symbiotic aquariums, self-healing concrete, clavicle wind instruments and structures made from living trees - biology applied outside the lab has never been so intriguing, or so beautiful. Bio Design examines the thrilling advances in the field, showcasing some seventy projects (concepts, prototypes and completed designs) that cover a range of fields - from architecture and industrial design to fashion and medicine. The revised and expanded edition features twelve new projects (replacing ten existing projects): Hy-Fi (by David Benjamin); One Central Park, Sydney (Jean Nouvel); Guard from Above (Sjoerd Hoogendoorn); Cell-laden Hydrogels for Biocatalysis (Alshakim Nelson); Zoa (Modern Meadow); Amino Labs (Julie Legault); Algae and Mycelium Projects (Eric Klarenbeek); Interwoven and Harvest (Diane Scherer); Concrete Honey (John Becker); Bistro In Vitro (Koert van Mensvoort); Circumventive Organs (Agi Haines); Quantworm Mine (Liv Bargman and Nina Cutler).
It also includes a new 'how-to' section at the end (Tips for Collaboration/FAQs/Further Resources), as well as a fully revised introduction.
BIC: