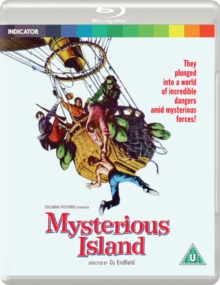 (U) Universal, suitable for all.
1960s fantasy adventure based on Jules Verne's sequel to '2000 Leagues Under the Sea'.
During the American Civil War a group of captured Union soldiers make a daring air balloon escape, only to end up on a strange Pacific island where they meet two shipwrecked English ladies and must defend themselves against the attacks of giant monstrous creatures.
Can they find a way to escape the mysterious island?
Interviews: Ray Harryhausen (VFX), Ray Andrew (clapper), Kim Newman (film critic)
Commentary: Ray Harryhausen (VFX), Tony Dalton (film historian); Randall William Cook, C Courtney Joyner, Steven C Smith (film experts)
Other Documentary: 'Mysterious Magic', 'Back to Mysterious Island'