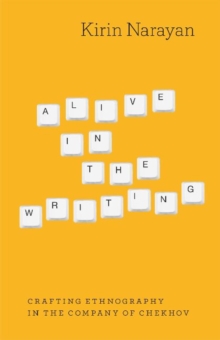 Alive in the writing : crafting ethnography in the company of Chekhov
0226568199 / 9780226568195
Anton Chekhov is revered as a boldly innovative playwright and short story writer - but he wrote more than just plays and stories.
In "Alive in the Writing" - an intriguing hybrid of writing guide, biography, and literary analysis - anthropologist and novelist Kirin Narayan introduces readers to some other sides of Chekhov: his pithy, witty observations on the writing process; his life as a writer through accounts by his friends, family, and lovers; and his venture into nonfiction through his book "Sakhalin Island".
By closely attending to the people who lived under the appalling conditions of the Russian penal colony on Sakhalin, Chekhov showed how empirical details combined with a literary flair can bring readers face to face with distant, different lives, enlarging a sense of human responsibility.
Highlighting this balance of the empirical and the literary, Narayan uses Chekhov to bring new energy to the writing of ethnography and creative nonfiction alike. Weaving together selections from writing by and about him with examples from other talented ethnographers and memoirists, she offers practical exercises and advice on topics such as story, theory, place, person, voice, and self.
A new and lively exploration of ethnography, "Alive in the Writing" shows how the genre's attentive, sustained connection with the lives of others can become a powerful tool for any writer.
BIC:
2AGR Russian, CBW Writing & editing guides, DSBF Literary studies: c 1800 to c 1900 , JHMC Social & cultural anthropology, ethnography