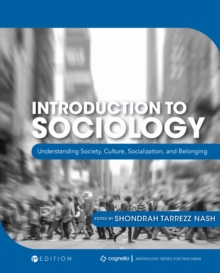 Introduction to Sociology : Understanding Society, Culture, Socialization, and Belonging
1516580257 / 9781516580255
Introduction to Sociology: Understanding Society, Culture, Socialization, and Belonging features scholarly readings that familiarize students with the study of society, its focus on the sources and solutions of social problems, and how contemporary factors have facilitated engagement with new groups and social relationships. The collection begins with works by classical and contemporary sociological thinkers.
Students learn how sociologists' scholarship has helped to establish the direction of sociological thought and action.
Unit II examines the concept of culture by exploring a subculture based on an animated television series and a cybercriminal counterculture.
In Unit III, students learn about the concept of socialization through readings that shed light on how masculinity, femininity, parenthood, and sexuality are framed, internalized, and replicated through the media.
The final unit underscores the effects felt when a society's member or group is not deemed as socially important as other members or groups.
Readings address the challenges faced by people of color, disabled individuals, members of the LGBT community, and homeless populations. Featuring foundational scholarship alongside diverse, contemporary viewpoints, Introduction to Sociology is an excellent text for undergraduate courses in sociology.
BIC: