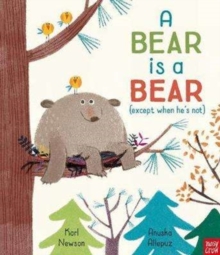 A bear is a bear (except when he's not)
1788000994 / 9781788000994
29 cm 25 unnumbered pages : chiefly illustrations (colour)
Includes QR code to access audio edition.
When one sleepy bear wakes up early from his winter sleep, he's confused.
Is he a bird? Or a moose? A fox perhaps? Or even a squirrel? No! He's definitely a bear, and it's time this bear went back to sleep . . .
BIC: