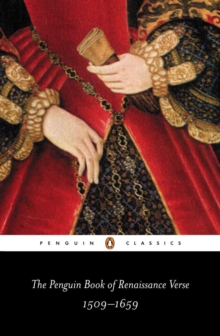 The Penguin book of Renaissance verse, 1509-1659
014042346X / 9780140423464
Reprint. Originally published: 1992.
The era between the accession of Henry VIII and the crisis of the English republic in 1659 formed one of the most fertile epochs in world literature.
This anthology offers a broad selection of its poetry, and includes a wide range of works by the great poets of the age - notably Sir Philip Sidney, Edmund Sepnser, John Donne, William Shakespeare and John Milton.
Poems by less well-known writers also feature prominently - among them significant female poets such as Lady Mary Wroth and Katherine Philips.
Compelling and exhilarating, this landmark collection illuminates a time of astonishing innovation, imagination and diversity.
BIC: