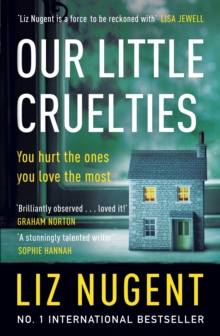 Our little cruelties
1844883957 / 9781844883950
'Liz Nugent is a force to be reckoned with' Lisa Jewell'Brilliantly observed family life and a plot that is part rollercoaster, part maze.
Loved it!' Graham Norton'MAGNIFICENT. Her best yet, and that's really saying something' Marian Keyes ______________Three brothers are at the funeral.
One lies in the coffin. Will, Brian and Luke grow up competing for their mother's unequal love.
As men, the competition continues - for status, money, fame, women ... They each betray each other, over and over, until one of them is dead. But which brother killed him?______________'Dark, beautiful, devastating - pure genius' Lucy Foley'[An] incredible achievement ...
I love her so much ... Genius' Sebastian Barry'Liz Nugent has a gift for filling us with a terrible fascination for truly horrible people' Val McDermid'What a terrific storyteller Liz Nugent is!
Brilliantly structured, fluently told, rich in unsettling incident and pulsing with dark, tumultuous energy ... her best book yet' Irish Times'A dark jewel of a novel - finely observed, swift and exciting' AJ Finn'An uncanny ability to get under the skin of characters ... nobody is a mere cliche in Nugent's clear, propulsive writing' Sunday Times'Creepy, compelling and totally addictive' Erin Kelly'Dramatic and compelling ... a whodunit and a Greek tragedy all in one ... absolutely riveting' Irish Independent'A masterful interrogation of a family's undoing ... and a ruthless examination of the pieces left behind' Business Post
BIC:
FA Modern & contemporary fiction (post c 1945), FF Crime & mystery, FH Thriller / suspense