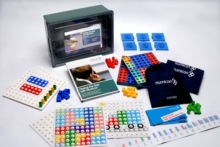 Numicon: Closing the Gap with Numicon - Group Kit
0198486995 / 9780198486992
Primary & Secondary Education (US: Elementary & High School) Learn More
This kit has been designed specifically for pupils of any age who are experiencing significantly greater difficulty learning mathematics than the majority of pupils of their age.
The aim of the Kit is to enable all pupils to have a positive experience of learning mathematics and to develop the sound foundation of basic number understanding that is essential if they are to achieve their individual potential.
This Kit is suitable for use as a Learning Intervention Programme and also for pupils who have special needs.
It is well documented that pupils with SENs learn most effectively through multi-sensory teaching; Numicon's emphasis on doing and seeing, alongside speaking and listening, capitalises on pupils' visual and kinaesthetic strengths throughout the teaching activities. Ideas covered in Closing the Gap Kit include: acquisition of early number skills, addressing the acquisition of numerosity (awareness of the number of objects in a set), counting, the ability to recognize and exploit pattern, and early computation.
BIC:
4KHJ For National Curriculum Key Stage 2, YQM Educational: Mathematics & numeracy