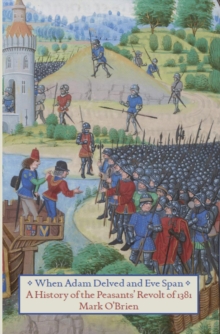 When Adam delved and Eve span : a history of the Peasants' Revolt
1910885266 / 9781910885260
Usually dispatched within 2 weeks
Reprint. Originally published: Cheltenham: New Clarion, 2004.
When Adam Delved and Eve Span is an introductory history of the inspirational English peasant rising of 1381.
The book recounts, against the backdrop of 14th century England- including the daily struggle of peasants for food and justice and the devastation wrought by the Black Death-the events of the Peasants' Revolt, both in London and in the regions, conveying their breath taking speed and bringing rebel leaders, such as Wat Tyler and John Ball, to life.
BIC:
* Variable discounts between 0% and 15% are applied to items where BBfS cannot determine exact discounts from suppliers.