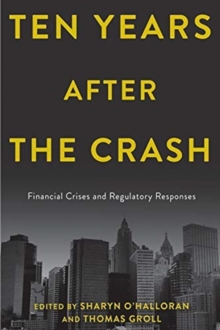 After the Crash : Financial Crises and Regulatory Responses
0231192843 / 9780231192842
The 2008 crash was the worst financial crisis and the most severe economic downturn since the Great Depression.
It triggered a complete overhaul of the global regulatory environment, ushering in a stream of new rules and laws to combat the perceived weakness of the financial system.
While the global economy came back from the brink, the continuing effects of the crisis include increasing economic inequality and political polarization. After the Crash is an innovative analysis of the crisis and its ongoing influence on the global regulatory, financial, and political landscape, with timely discussions of the key issues for our economic future.
It brings together a range of experts and practitioners, including Joseph Stiglitz, a Nobel Prize winner; former congressman Barney Frank; former treasury secretary Jacob Lew; Paul Tucker, a former deputy governor of the Bank of England; and Steve Cutler, general counsel of JP Morgan Chase during the financial crisis.
Each poses crucial questions: What were the origins of the crisis?
How effective were international and domestic regulatory responses?
Have we addressed the roots of the crisis through reform and regulation?
Are our financial systems and the global economy better able to withstand another crash?
After the Crash is vital reading as both a retrospective on the last crisis and an analysis of possible sources of the next one.
BIC:
1KBB USA, 3JM 21st century, KCP Political economy, KCX Economic & financial crises & disasters