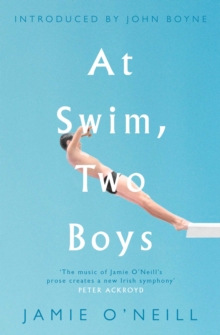 At swim, two boys
0743207149 / 9780743207140
Reprint. Originally published: 2001.
A truly original - and utterly compulsive - novel, reminiscent of MIDNIGHT'S CHILDREN and A SUITABLE BOY for its scope and vitality.
Set in Dublin and its near surrounds AT SWIM, TWO BOYS follows the turbulent year to Easter 1916.
At its core it tells the love of two boys, Jim, a naive and reticent scholar, the younger son of foolish, aspirant shopkeeper Mr Mack, and Doyler, the dark rough diamond son of Mr Mack's old army pal.
Out at the Forty Foot, that great jut of rock where gentlemen bathe in the scandalous nude, the two boys meet day after day.
There they make a pact: that Doyler will teach Jim to swim, and in a year, they will swim the bay to the distant beacon of the Muglins rock, to raise the Green and claim it for themselves.
As Ireland sets forth towards her uncertain glory there unfolds a love story of the utmost tenderness, carrying the reader through the turbulence of the times like a full blown sail.
AT SWIM, TWO BOYS is written with great verve and mastery.
It shares those elements that are the marks of all great books - the breadth of its canvas, the skill of its brush, the intensity of its subjects and, above all, the shining light of its humanity.
BIC: