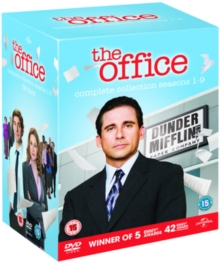 The Office - An American Workplace: Seasons 1-9
(15) Suitable for 15 years and over.
All 201 episodes from all nine seasons of the American version of the acclaimed BBC sitcom created by Ricky Gervais and Stephen Merchant.
At the Dunder Mifflin paper company, a documentary crew are making a programme looking behind the scenes at modern working practice.
Clueless manager Michael Scott (Steve Carell) considers himself a business genius and an all-round entertainer - unaware that, to his workers, he's an insufferable idiot.