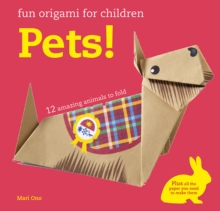 Pets! : 12 amazing animals to fold
1782495800 / 9781782495802
25 x 26 cm 32 pages : illustrations (colour)
12 step-by-step origami animal projects for children, including paper to make them with. Suitable for children from age 5 and upwards, Mari Ono's origami pets are a wonderful introduction to paper-folding for kids.
This is the perfect book for children who love animals and crafting, with projects including dogs, cats, a parrot, a hamster, and for those who prefer something a little less furry, a slithering snake!
All the projects are fun to make as well as play with.
There are amazing animal facts throughout, so children can learn while they craft.
Each project has simple step-by-step instructions and clear photographs, as well as helpful arrows showing where to fold.
There are skill ratings, so children can start with an easy project and then move on to something a bit more challenging until, eventually, they are easily impressing friends with their paper-folding skills.
Specially designed pieces of origami paper are included with the book, so children can start crafting straight away.
BIC:
WFTM Origami & paper engineering, YB Picture books, activity books & early learning material