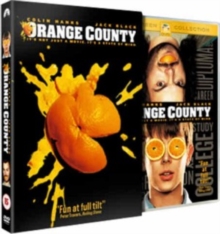 (12) Suitable for 12 years and over.
Teen comedy starring Tom Hanks's son Colin Hanks as Shaun, a high school kid desperate to leave behind his mind-numbing life in Southern California, land of surf dudes and affluent ranch-dwelling lifestyles.
He has set his heart on studying creative writing at Stanford with acclaimed author Martin Skinner (Kevin Kline), and knows he's bright enough - so when he gets a rejection letter he is furious, and after a bit of detective work realises that his school sent the wrong papers to the university.
He then proceeds to enlist the help of his dysfunctional parents (Catherine O'Hara and John Lithgow), his girlfriend Ashley (Schuyler Fisk) and his stoner brother Lance (Jack Black) to set the record straight and enable his escape from his hitherto braindead existence.