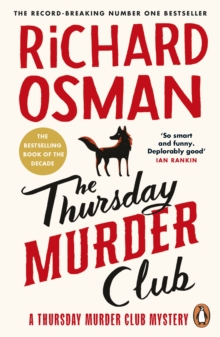 The Thursday Murder Club
0241988268 / 9780241988268
Reprint. Originally published: UK: Viking, 2020.
'Smart, compassionate, warm, moving and so VERY funny' Marian Keyes 'So smart and funny.
Deplorably good' Ian Rankin'Thrilling, moving, laugh-out-loud funny' Mark Billingham'A gripping read' Sunday Times THE FIRST BOOK IN THE #1 BESTSELLING, MULTI MILLION COPY SELLING SERIES BY TV PRESENTER RICHARD OSMAN ---------------------------------------------- In a peaceful retirement village, four unlikely friends meet up once a week to investigate unsolved murders. But when a brutal killing takes place on their very doorstep, the Thursday Murder Club find themselves in the middle of their first live case. Elizabeth, Joyce, Ibrahim and Ron might be pushing eighty but they still have a few tricks up their sleeves. Can our unorthodox but brilliant gang catch the killer before it's too late?The Times Crime Book of the Month Guardian Best Crime and Thrillers---------------------------------------------- 'A great read, I really enjoyed it' Graham Norton, Home Stretch 'As the bodies pile up, and more is revealed of the lives and loves of Joyce, Ibrahim, Ron and Elizabeth, you can't help cheering them on - and hoping to meet them again soon' The Times, Crime Book of the Month 'Mystery fans are going to be enthralled' Harlan Coban, Win 'Pure escapism' Guardian, Best Crime and Thrillers 'One of the most enjoyable books of the year' Daily Express 'A beacon of pleasure' Kate Atkinson, Behind The Scenes At The Museum 'As gripping as it is funny' Evening Standard 'Funny, clever and achingly British' Adam Kay, This Is Going to Hurt 'An exciting new talent in crime fiction' Daily Mail 'A warm, wise and witty warning never to underestimate the elderly' Val McDermid, 1979 'Delight after delight from first page to last' Red Magazine 'I completely fell in love with it' Shari Lapena, Not a Happy Family 'This is properly brilliant.
The pages fly and I can't stop smiling' Steve Cavanagh, The Devil's Advocate 'Charming, clever debut' Stylist 'I laughed my arse off' Belinda Bauer, Exit 'A witty and poignant tale' Daily Telegraph 'Clever, clever plot' Fiona Barton, Local Gone Missing 'An absolutely delightful read' Prima Magazine 'Utterly charming' Sarah Pinborough, Insomnia 'Funny and original' Sun 'Properly funny and totally charming... steeped in Agatha Christie joy' Araminta Hall, Hidden Depths 'This is one of the most delightful novels of the year' Daily Mirror 'A bundle of joy' Jane Fallon, Worst Idea Ever
BIC:
1DBKESK Kent, 3JMG c 2010 to c 2020, 5HC Christmas, FA Modern & contemporary fiction (post c 1945), FF Crime & mystery