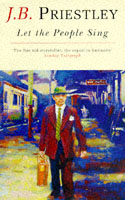 0749322764 / 9780749322762
Reprint. Originally pubished: London: Heinemann, 1939.
Timmy Tiverton, out-of-work comedian, feels finished in a world that doesn't want him.
Ironically, however, life starts to improve after he accidentally blows up the statue of Sir Benjamin Flitwick.
As he flees from the police, there follows a catalogue of events.
BIC: