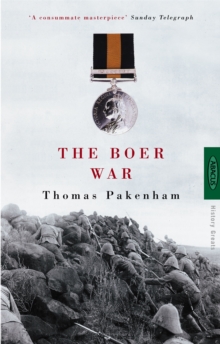 0349104662 / 9780349104669
20 cm xxii, 659 p., [16] p. of plates : ill.
Reprint. Originally published: London: Weidenfeld & Nicolson, 1979.
The war declared by the Boers on 11 October 1899 gave the British, as Kipling said, "no end of a lesson".
It proved to be the longest, the costliest, the bloodiest and the most humiliating campaign that Britain fought between 1815 and 1914.
Thomas Pakenham has written a full-scale history of the war, based on first-hand and largely unpublished sources ranging from the private papers of the leading protagonists to the recollections of survivors from both sides.
BIC:
1HFMS Republic of South Africa, 3JH c 1800 to c 1900, 3JJ 20th century, HBJH African history, HBLL Modern history to 20th century: c 1700 to c 1900, JWL War & defence operations