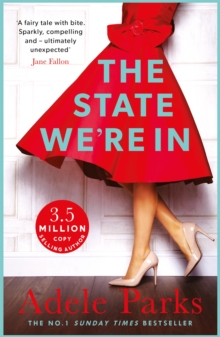 The state we're in
0755371399 / 9780755371396
Reprint. Originally published: 2013.
What are the odds that the stranger sitting next to you on a plane is destined to change your life?
Especially when they appear to be your opposite in every way... The No. 1 ebook bestseller, The State We're In, is the stunning, emotionally powerful novel from Sunday Times bestseller Adele Parks, author of The Stranger In My Home.
The perfect read for fans of Jane Green and Sheila O'Flanagan. Jo is a hopeless romantic. Worried she let her soulmate slip away, she's chasing her past all the way to Chicago to break up her ex-fiance's wedding. Dean is a resolute cynic. After a brief (but not brief enough) trip to London, he's returning to Chicago, where he moved to escape his dysfunctional past. In the time it takes to fly from London to Chicago, each finds something in the other that they didn't even realise they needed. But it's only when they get off the plane that their true journey begins... What readers are saying about The State We're In:'This book is full of surprises and twists that keep you guessing until the end.
It is one of those books that I was absolutely devastated to have finished' 'You will laugh, you may cry, but on the whole it is an extremely heart-warming tale that delivers a generous dose of optimism'
BIC: