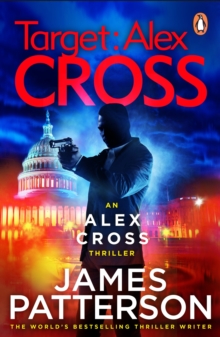 Target Alex Cross
1784753653 / 9781784753658
20 cm 414 pages : maps (black and white)
Reprint. Originally published: London: Century, 2018.
______________________________'No one gets this big without amazing natural storytelling talent - which is what Jim has, in spades.
The Alex Cross series proves it.' LEE CHILD, international bestselling author of the Jack Reacher seriesFrom the author of Sunday Times no. 1 bestseller The President is Missing. TARGET: HEAD OF STATEAlex Cross and his family join men and women from across the nation lining the streets of Washington, DC to mourn the unexpected death of the President.
TARGET: UNITED STATES CABINETWith the country still in shock, the assassination of a prominent Senator strikes another devastating blow to the heart of the nation's capital.
As Chief of Detectives, Alex's wife Bree Stone faces an ultimatum: solve the case, or lose her job. TARGET: ALEX CROSSThe new President calls on Cross to lead an unparalleled FBI investigation to help capture America's most wanted criminal.
But what follows will plunge the country into chaos, and draw Cross into the most important case of his life. ______________________________THE BEST ALEX CROSS YET?Here's what the fans say:'It's been a while since I last read a James Patterson Alex Cross novel and I had forgotten what a good series this is.
A fabulous read''Another winner for Alex Cross and the great J.
P.!' 'Once again, the author produces a very readable book.
It is fast moving and the plot develops at a real pace.
I thoroughly enjoyed this and recommend it to all.''Target: Alex Cross is from page 1 till the last one a warm bed for every thriller lover.
Snuggling down, on a rainy day, and this book in your hands, you'll forget the rest of the world.''Multiple story lines woven into one keeps you interested and will make you hate yourself for finishing this book in one go.
Where's number 27??? I want it now.''I've been following Alex Cross since Along Came A Spider and I'm not ready for his story to end yet!
This was a fast, fun ride and it did not disappoint.'
BIC: