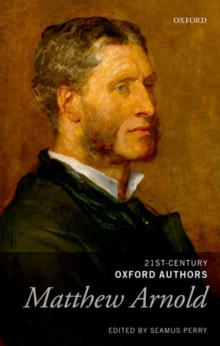 Matthew Arnold : Selected Writings
0199595569 / 9780199595563
138 x 216 mm 912 pages, 8 black and white illustrations
This volume in the 21st Century Oxford Authors series offers students an authoritative, comprehensive selection of the poetry and prose of Matthew Arnold (1822-1888)-the first of its kind for half a century.
The anthology is a fresh presentation of one of the most important and influential writers and thinkers of the Victorian period.
Arnold's many facets-as poet, educationalist, literary critic, cultural commentator, and religious controversialist-arerepresented; and the text is fully annotated, identifying the many authors with whom Arnold engaged, and the contemporary public events to which his work often responds.
Many of the themes of Arnold's writing life are still pressing matters today.
What is the true nature of education? What are the duties of theState towards its citizens?
What are the proper limits to individual freedom within a liberal society?
What is the future of religion in an age of increasing secularisation? And, besides these questions, his poetry is one of the greatest and most influential of all bodies of Victorian verse, giving voice to the anxieties of an epoch. Explanatory notes and commentary enhance the study, understanding, and enjoyment of these works, and the edition includes an Introduction to the life and works of Arnold, and a Chronology.
BIC:
2AB English, DCF Poetry by individual poets, DN Prose: non-fiction, DSBF Literary studies: c 1800 to c 1900 , DSC Literary studies: poetry & poets