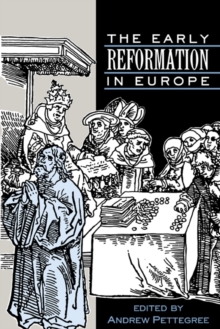 The Early Reformation in Europe
0521397685 / 9780521397681
Usually dispatched within 4 weeks
149 x 239 mm, 420 grams 264 pages, Worked examples or Exercises
Professional & Vocational Learn More
Tertiary Education (US: College)
In the generation that followed Martin Luther's protest the evangelical movement in Europe attracted very different levels of support in different parts of the continent.
Whereas in eastern and central Europe the new movement brought a swift transformation of the religious and political landscape, progress elsewhere was more halting: in the Mediterranean lands and western Europe initial enthusiasm for reform failed to bring about the wholesale renovation of society for which evangelicals had hoped.
These fascinating contrasts are the main focus of this volume of specially commissioned essays, each of which charts the progress of reform in one country or region of Europe.
Written in each case by a leading specialist in the field, they provide a survey based on primary research and a thorough grasp of the vernacular literature.
For both scholars and students they will be an invaluable guide to recent debates and literature on the success or failure of the first generation of reform.
BIC: