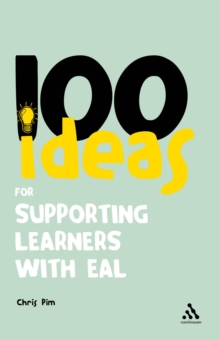 100 ideas for supporting learners with EAL
1441193561 / 9781441193568
This title includes 100 inspirational, tried-and-tested ideas that can be used straight away by a range of practitioners supporting learners with English as an additional language (EAL). "100 Ideas for Supporting Learners with EAL" is a practical book of ideas and support strategies for the induction, assessment, teaching and learning of students with English as an additional language (EAL).
There are ideas for use with absolute beginners and advanced learners of EAL for a variety of age groups, and where the idea is specific to a level of learner or age group this is clearly marked.
Ideas include: setting up a parent conference; identifying and supporting G&T learners; cross-cultural mathematics; and, effective questioning techniques.
There is an emphasis on using ICT throughout the book, and a whole section on resources and software available, including where to find the best websites and quality resources.
There is also a section on whole-school approaches to supporting learners with EAL.
This book is an essential source of inspiration for teachers, support staff, senior managers and Ethnic Minority Achievement (EMA) specialists and coordinators. "The Continuum One Hundreds series" offers 100s of practical ideas for teachers of various phases and levels of experience.
BIC:
JNSV Teaching of students with English as a second language (TESOL)