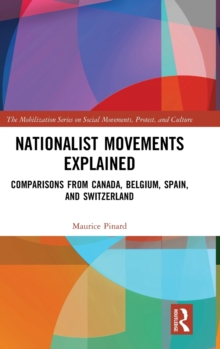 Nationalist movements explained : comparisons from Canada, Belgium, Spain and Switzerland
0367271451 / 9780367271459
Usually dispatched within 4 weeks
24 cm 240 pages : illustrations (black and white)
Postgraduate, Research & Scholarly Learn More
Undergraduate
This book examines nationalist movements in four ethnically plural countries, one of which has no previous experience of such movements at the national level.
Presenting comparisons of the cases of Canada, Belgium, Switzerland, and Spain, including descriptions of the social, economic, and political contexts in each country, the author investigates the various determinants of each movement, shedding new light on what accounts for ethnic conflict and harmony.
With attention to the degrees of equality and inequality among the various ethnic groups in each society, the extent to which these segments are fragmented and the degree to which there is internal communal integration, this volume also examines the particular roles played by political parties and resources in nationalist movements.
A unique contribution to social movement theory based on important comparative analyses, this work will appeal to scholars of sociology and politics with interests in ethnic mobilization and contemporary social movements.
BIC:
JFSL Ethnic studies, JHB Sociology, JP Politics & government