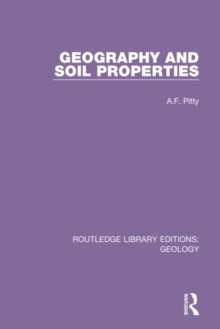 Geography and soil properties (1st edition)
0367280388 / 9780367280383
Usually dispatched within 4 weeks
Reprint. Originally published: London: Methuen, 1979.
This book, first published in 1978, provides a comprehensive guide to soil properties in any major world region.
It emphasizes the significance of the spatial changes in soil patterns, the environmental influence on soils, and their temporal changes, but focuses attention on the systematic examination of soil properties and their reciprocal effects.
It covers such important topics as the mineral composition of different soils, their organic matter, structure and porosity, chemical make-up and mechanical properties.
BIC: