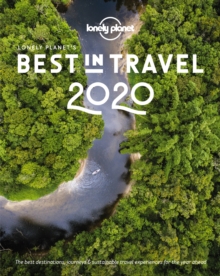 1788683005 / 9781788683005
22 cm 217 pages : illustrations (colour), maps (colour)
This annual bestseller ranks the hottest, must-visit countries, regions, cities and best value destinations for 2020.
Drawing on the knowledge and passion of Lonely Planet's staff, authors and online community, we present a year's worth of inspiration to take you out of the ordinary and into the unforgettable. As self-confessed travel geeks, we regularly ask ourselves: where are the best places in the world to visit right now?
It's a very hotly contested topic at Lonely Planet and generates more discussion than any other.
Best in Travel is our definitive answer. We also reveal how well-planned, sustainable travel can be a force for good: for the environment, for local people and for yourself - and include ways to help lower your carbon footprint and protect the areas you visit on your travels. Inside Best in Travel 2020, you'll discover: The top 10 countries, regions, cities and best value destinationsThe best new openingsThe best new places to stayThe best new food experiencesThe best sustainable trips for familiesHow to minimise your carbon footprintHow to help local communities and businessesHow to give back on your travelsHiking for meditat(more...)
BIC: