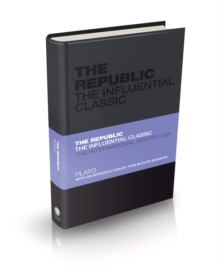 The Republic : the influential classic
0857083139 / 9780857083135
Reprint. Translated from the Ancient Greek.
The newest deluxe edition in the bestselling Capstone Classics Series This ancient classic has had a make-over.
In recent years these Capstone Classic deluxe editions have caught the book buying public's imagination.
The volumes of international bestsellers such as Think and Grow Rich and The Art of War have quickly become the market leaders.
Now Plato's best known work, one of the most intellectually and historically influential works of philosophy and political theory, has been brought to life in this luxury, hardback, keep-sake edition. This edition includes: * Plato's plans for a perfect society characterised by a blend of wisdom, courage, self-discipline and justice * Lessons to learn about living according to eternal truths, instead of existing simply for survival and pleasure * A new introduction by Tom Butler Bowdon, the classic personal development expert
BIC:
DB Classical texts, HPS Social & political philosophy, HPX Popular philosophy