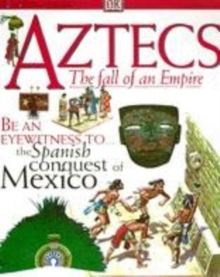 Aztecs : the fall of the Aztec capital
0751358851 / 9780751358858
Usually dispatched within 2 weeks
29 cm 48p. (8 folded) : chiefly col. ill.
Follow the dramatic account of the end of the Aztec empire.
Travel with Hernan Cortes and his men as they trek across Mexico to the Aztec capital Tenochtitlan.
Visit the sights of the city: the market the zoo Emperor Moctezuma's sumptuous palace and the eerie temple pyramid whose steps dripped with the blood of human sacrifices.
Relive the bloody battles for the city and encounter the fearsome eagle and jaguar knights who could cut off a horse's head with one blow from their clubs.
Be an eyewitness to the rise and fall of the Aztec empire.
Witness the dramatic events leading up to the clash between the Aztecs and the Spanish and enjoy lively reports from eyewitnesses at the scene.
All the details of life in Aztec times are revealed in fascinating illustrations and amazing exploded views.
BIC: