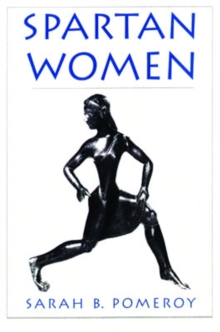 Spartan women
0195130677 / 9780195130676
Usually dispatched within 4 weeks
postgraduate Learn More
research & professional
undergraduate
Sparta, which existed from 800 B.C. until A.D. 200, was renowned in the ancient world as a stoic and martial city-state, and most of what we know about Sparta concerns its military history and male-dominated social structure.
Yet Spartan women were in many ways among the most liberated of the ancient world, receiving formal instruction in poetry, music, dance, and physical education. And the most famous of mythic Greek women, Helen of Troy, was originally a Spartan.
Written by one of the leading authorities on women in antiquity, Spartan Women seeks to reconstruct the lives and the world of Sparta's women, including how their legal status changed over time and how they held on to their surprising autonomy.
In this book, Sarah Pomeroy covers over a thousand years in the lives of Sparta's women from both the elite and lower classes.
This is the first book-length examination of Spartan women, and Pomeroy comprehensively analyses ancient texts and archaeological evidence to construct the history of these elusive though much noticed women.
Spartan Women is an authoritative and fresh account that will appeal to all readers interested in ancient history and women's studies.
BIC:
1QDAG Ancient Greece, HBTB Social & cultural history, JFSJ1 Gender studies: women