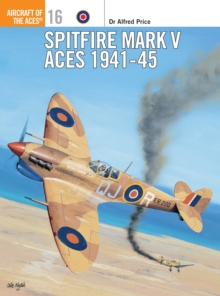 Spitfire Mark V Aces 1941-45
1855326353 / 9781855326354
Usually dispatched within 4 weeks
185 x 250 mm, 309 grams 96 pages, 100 b&w and 40 colour illustrations
This volume completes the "Aircraft of the Aces" trilogy on the elite pilots that flew the Spitfire in World War II.
The Spitfire Mk V was the workhorse of the wartime marks, being flown in combat across the globe.
It was the first of its type to be built in sufficient numbers to allow it to serve in the Far East, Australia, North Africa and Russia.
A robust machine, it was often outclassed by the Luftwaffe's Fw 190.
Nevertheless, pilots of the calibre of Malan, Tuck, Johnson, Beurling, Caldwell and Duke all enjoyed success with the Mk V and are described in the book.
BIC:
3JJH c 1939 to c 1945 (including WW2), HBJD European history, HBT History: specific events & topics, HBWQ Second World War, JWG Air forces & warfare, JWM Weapons & equipment