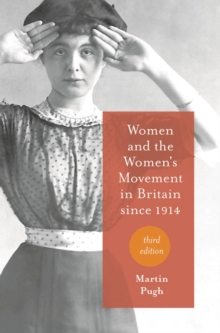 Women and the women's movement in Britain since 1914 (Third edition)
1137414901 / 9781137414908
Usually dispatched within 4 weeks
416 pages : illustrations (black and white)
Postgraduate, Research & Scholarly Learn More
Undergraduate
This new edition of an established text brings the history of the women's movement in Britain right up to the present day.
Updated and expanded, the third edition features a new final chapter focusing on the parliamentary breakthrough of 1997 and the likely impact of women in the upcoming general election.
Another major addition is the study of the effects of the Thatcher era on a generation of women, from a greater distance.
The book has been thoroughly revised throughout to analyse the themes and developments of the new millennium, including women's employment, women and liberal society, and women in public life.
BIC:
1DBK United Kingdom, Great Britain, 3JJ 20th century, HBJD1 British & Irish history, HBLW 20th century history: c 1900 to c 2000, HBTB Social & cultural history, JFFK Feminism & feminist theory